Borrowed Bikes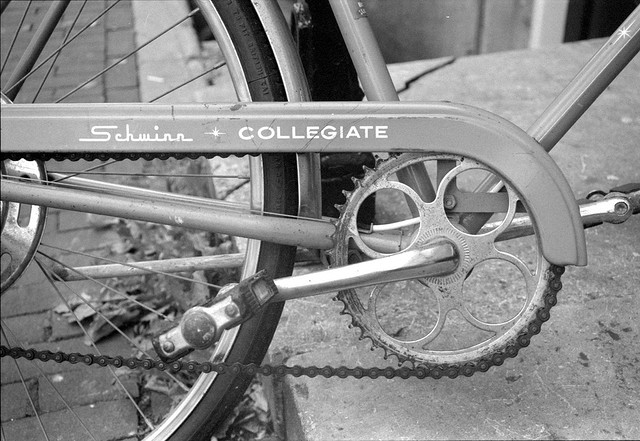 I'm wrapping up an almost-two-week stay in Portland to visit friends and family. While here, I've been putting around on bicycles generously loaned by my friend Esther. And, it's got me reminiscing about all the bikes I've borrowed while traveling. I'm quick to fall in love with a bike, and I've had the fantastic opportunity, due to the generosity of friends and strangers, to ride quite a few borrowed bikes and fall in love with each of them. In my opinion, there's really no better way to travel, or explore a new place while traveling, than on a bicycle.
The first bike I remember borrowing while traveling was in the Netherlands. In Amsterdam, Judith loaned me her dark-brown in-city commuter. I wasn't in Amsterdam for more than 2 hours before I was riding 'Dutch' around the city with Judith. She introduced me to the rules of the road, a few places to get a strong pint, and generously let me borrow the bike for about a week. During that time, I rode all over the city: to die Wallen, the Vondelpark, various events, and to the conference I was there to attend. At one point, I made the mistake of trying to add some air to the tires and the tire ripped wide open. I repaired it before returning it, but learned that on an old dutch bike, if it isn't broke, you shouldn't try to fix it.
When Judith needed her bike back, I was able to borrow another from friends-of-a-friend: Jeff and Daniel (via Esther). This was an orange Schwinn Collegiate (pictured, right). I only had it for a handful of days but it got me around pleasantly.
In New Orleans, I got around on Steve's single speed Kona. I rode that bike all over the place—on several long rides exploring the inner and outer New Orleans neighborhoods, on a couple long rides on the Levy path, and as a way to get myself around the city.
In Hamilton, New Zealand, I knew I'd need a bike to get around. Since I was there for 3+ months, I considered purchasing one, but all the options seemed crummy or expensive or both. I spent a bit of time tooling around on the internet, and found a group of cyclists in the city that seemed active. I posted something there asking if there was anyone who could spare a road bike for a couple months. To my surprise, a friendly guy named Rob offered me his silver aluminum road bike. Despite the fact that I didn't know Rob, he was happy to take a leap of faith and loan his lovely bike to a perfect stranger. I took the bus out to pick it up and rode it home in a proper rainstorm. I narrowly avoided a crash navigating my first 2-lane round-about (driving on the left) in the rain on an unfamiliar bike. I made it back home, soaked, but overjoyed by the kindness of strangers. I didn't do as many long rides as I had hoped that winter, largely because of the conditions, but it got me around Hamilton and on one or two long rides out into the country.
On a prior trip to Portland, Tabor lent me his self-built Surly crosscheck and Ortlieb saddlebags. I took it all around. Embarrasingly, I went over the handlebars once, when a car stopped suddenly in front of me and I braked hard with my left hand (front brake in the US, rear brake in New Zealand :P). Minor damage to me and the bike, but mostly to my ego. I argued a bit with the russian-speaking drivers before giving up and biking away.
In Germany, Eric and I rented bikes from the Mobil bike rental at the central station in Freiburg. At 5 eur per day, the bikes were clearly priced not for profit, but for convenience. The bike I rode was a heavy Giant-brand bike with internally geared hub shifters, big fat touring tires and a pendulous saddle bag. We took the bikes on the trains towards the Austrian border (the Bodensee) and then rode back along the Rhine on the Swiss-German border. I fought a bit with the internally geared hub, but the bike made it more than 120 miles, so I can't complain. The ride was followed a gorgeous river through idyllic countryside and small towns. Eric and I drank our fair share of Radler, accompanied by hearty bread and delicate pastries.
During my present stay in Oregon, I've ridden two bikes, both Esther's. When I first got here, she lent me her Schwinn Tour de Lux touring bike. I rode it a bit around town and then from Hillsboro to the beach along the Nestucca River Road. It was 80 miles with a pile of gear, but the trip was a fantastic homecoming to Oregon, going through some unbelievably beautiful country, starting in wine-making and lavendar growing farmlands, up and over the thick coastal range, and ending in the fertile Tillamook dairying country washed with salty sea air. When she needed the bike back for a touring trip of her own, she lent me her Brompton folding bike, which I've been using to get around since. I've put a decent number of miles on the 'Brommie' and despite it's squat geometry, have found it to be a very capable bike.
I don't think it's an accident that the trips where I've spent the most time riding a bicycle are also the trips that looking back I enjoyed the most. For instance, I've been to Europe a couple times, but no other trip holds a candle to my time in Amsterdam when I did so much exploring by bike (and in a place where bicycles are so integrated into the culture). My experiences in New Zealand, Germany, and New Orleans were totally enabled by the bikes that I rode. I'm indebted to the wonderful people who've let me use their bikes. The world, while traveling or otherwise, is simply better experienced on a bike.